A container ship (also called boxship or spelled containership) is a cargo ship that carries all of its load in truck-size intermodal containers, in a technique called containerization. Container ships are a common means of commercial intermodal freight transport and now carry most seagoing non-bulk cargo.
Container ship capacity is measured in twenty-foot equivalent units (TEU). Typical loads are a mix of 20-foot (1-TEU) and 40-foot (2-TEU) ISO-standard containers, with the latter predominant.
Today, about 90% of non-bulk cargo worldwide is transported by container ships, and the largest modern container ships can carry up to 24,000 TEU (e.g., Ever Ace).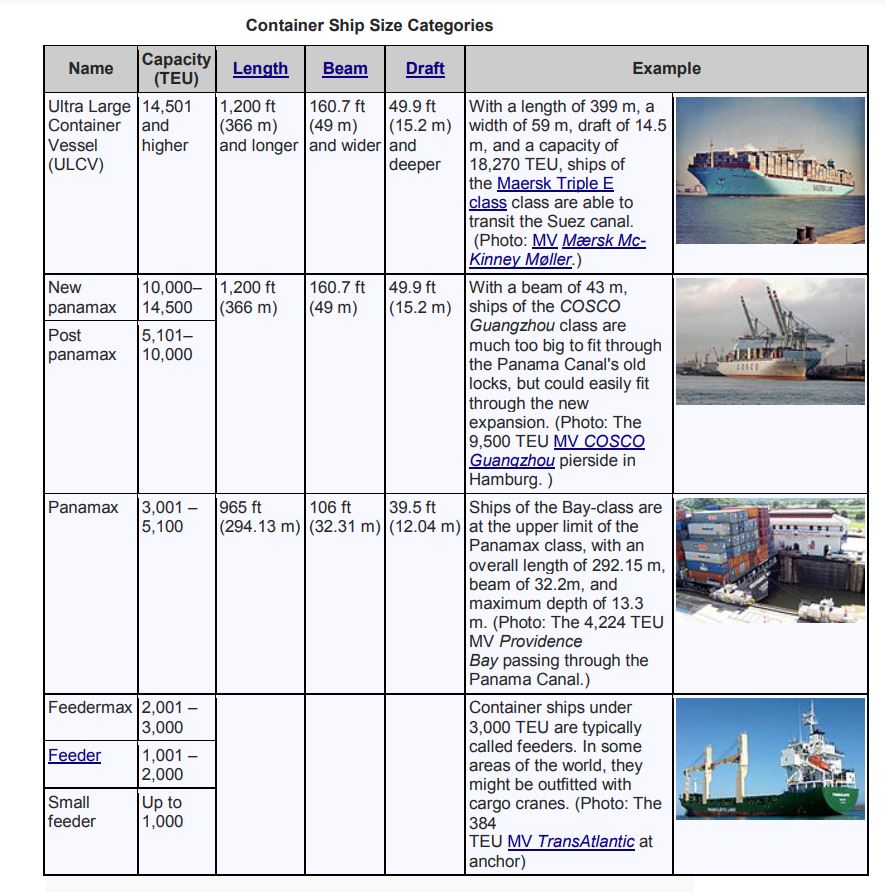 Size categories 
Container ships are distinguished into 7 major size categories: small feeder, feeder, feedermax, Panamax, Post-Panamax, New Panamax and ultra-large.[20] As of December 2012, there were 161 container ships in the VLCS class (Very Large Container Ships, more than 10,000 TEU), and 51 ports in the world can accommodate them.[21]
The size of a Panamax vessel is limited by the original Panama canal's lock chambers, which can accommodate ships with a beam of up to 32.31 m, a length overall of up to 294.13 m, and a draft of up to 12.04 m.[22] The Post-Panamax category has historically been used to describe ships with a moulded breadth over 32.31 m,[23] however the Panama Canal expansion project has caused some changes in terminology. The New Panamax category is based on the maximum vessel-size that is able to transit a new third set of locks, which opened in June 2016.[24][25] The third set of locks were built to accommodate a container ship with a length overall of 366 metres (1,201 ft), a maximum beam (width) of 49 metres (161 ft), and tropical fresh-water draft of 15.2 metres (50 ft).[25][26] Such a vessel, called New Panamax class, is wide enough to carry 19 columns of containers, can have a total capacity of approximately 12,000 TEU and is comparable in size to a capesize bulk carrier or a Suezmax tanker.[26]
Container ships under 3,000 TEU are generally called feeder ships or feeders. They are small ships that typically operate between smaller container ports. Some feeders collect their cargo from small ports, drop it off at large ports for transshipment on larger ships, and distribute containers from the large port to smaller regional ports.[2] This size of vessel is the most likely to carry cargo cranes on board.[27]
If you think this post is useful Please rate us